As Aidy Boothroyd swaps Colchester United for Coventry,
Nobes
tells the tale of long-ball managers and why their style of football demands they need instant results.

It's a brave man who accepts the challenge of turning around the fortunes of Coventry City.

The Sky Blues have always struggled to muster a promotion challenge back to the Premier League - a fact not helped by a modest budget. However, it's not been enough to deter Colchester's Aidy Boothroyd from taking the plunge.

On his appointment at the Essex club last September, I spoke about how Boothroyd's career had reached a crossroads. Was his initial success at Watford a flash in the pan, or did he have more to offer the game?

When taking into account his nine months at United, some observers might suggest that he is fortunate that this opportunity has arisen.

Although he managed to initially maintain Colchester's play-off challenge, they imploded towards the end of the season when a place in the top six seemed certain - eventually finishing 8th.

However, whether he merits the job or not is now irrelevant. More pertinent is the question of just how long he'll last. Unfortunately for Boothroyd, his preference for playing a direct style immediately puts him under pressure.

Like many long-ball managers, a poor run of results and fans will blame the style of football. Here's the story behind why too many long balls usually adds up to a short stay.



[The following story includes pictures of Neil Warnock as illustrations. We are not making any accusations that Mr Warnock is a long ball manager. Although we all know he actually is.]






Why the long-ball?




To understand why a manager would seemingly tie a noose around his neck by favouring such a style, we first must consider why many believe playing in what, most accurately, is known as the 'percentage game.'

It's also known as 'football by numbers', and dates back to a study in the 1950s by Charles Reep who deduced that most goals were scored through passages of play involving few passes.

Quite simply, the more balls you put into dangerous areas - the penalty box - the higher the likelihood, or higher the percentage, of you scoring. And we all know goals win games.

The long-ball style is also defensively strong, the less time the ball spends in your half and not near your box, the less chance your opponents have got of scoring.

After all, a mistake trying to play the ball on the edge of your opponent's area is far less likely to lead to you conceding than one on the edge of your own box.

Offensively dangerous, defensively sound. Next time you see a long-ball manager on the touchline, remember you're watching a footballing scientist in action.


The appointment



The first question many will ask when a manager with a reputation for playing a long-ball game is appointment is: why? There will be Coventry fans asking the same question today.

Put simply, long-ball managers usually earn their reputation for getting the best out of few resources. It's why they employ a style which doesn't demand great technical players.

If you're working to a tight budget and want to compete, it's far easier to employ a style which is basic, simple, and can be very effective rather than taking time to gel a passing team together.

Long-ball managers are also considered a safe pair of hands. They might not produce attractive teams but they can have a steadying influence. They can make teams hard to beat and grind out results when they're required.

So, when chairmen look for a new manager, someone who has got a side to overachieve and someone who can work to a tight budget is an attractive proposition.

Some might even hope that a leopard can changes its spot and that, with greater resources and better players, a manager might employ a more attractive style of play.

A good example of this was Joe Royle whose Oldham team punched above their weight in the top flight in the early 90s playing a very direct style. However, at Ipswich in the Noughties his side played a fluid, passing game.

He was more of an exception than the rule, however.


The early days



You always get a mixture of response from fans at any managerial appointment. Even more so when the man in question has a reputation for playing an unattractive style of football.

Some will be completely opposed, some will be sceptical but willing to give him a chance, some won't care what football is playing as long as their team is winning.

In the early days, a long-ball manager is always protected from criticism. He can point to the fact he is not working with 'his kind of players' or 'his team.'

Conversely, he might argue that he is only playing a style that suits the current playing staff and he would rather play a passing game. Or that a passing game takes time to implement and fans must have patience.

Fans are often willing to accept too that, if their team starts poorly, a 'back to basics' approach is fine to make sure you start to collect a few results, and get some confidence and momentum going.


Reality check


If he's still in a job a few months later, reality begins to hit home for supporters - everything they were told by other fans is true - they've got a hoofball merchant at the helm.

What happens next is dependant on two things - the club in question, and how the season is going.

We'll deal with the question of the club first. Some clubs, because of tradition, believe football should be played in a certain way. They will be unhappy that their team is playing ugly.

Other clubs aren't as particular. However, they will be a bigger club with a larger budget who expect, with the money at the manager's disposal, that he would have constructed a team who play football that is more attractive to watch.

Then there are smaller clubs who have fewer resources whose fans really won't care what style of football is implemented - as long as its achieving results.

Ultimately, it's the last point which is the most important - good results can placate most purists. After all, isn't winning football the best kind you can watch?

If the team is doing well, then the manager is immune from criticism.
Fans will praise the manager for how organised he has got the team and how effective they are.


Sure, the football could be better they'll think, but that doesn't always mean better results.


Sticky spell


It happens to every manager sooner or later - you suffer a poor run of results. However, for the long-ball manager there is a ready made stick with which he can be beaten.

Fans once praising the manager for how organised and effective he had got the team will now be pointing the finger of blame at the team's long-ball game.

The defence that the style of play was achieving results would have now gone. Results were achieved in spite of the long balls, not because of them.

Now they have been found out, and the manager's tactics are to blame. He is too predictable and they have no Plan B. The manager has lost a lot of the fans' belief.


The departure


Long-ball or not, it happens to almost every manager eventually. However, with the long ball manager, it has a more predictable air about it.

Often the club are currently, or have finished, in mid-table. They're not going anywhere, results are average, and crowds are dropping because fans don't want to pay to see ugly football any more.

Suddenly a safe and steady pair of hands isn't enough. If the club had been in trouble at the bottom under the previous manager, those past struggles are somehow forgotten.

The chairman's belief is that if the club is going to finish in mid-table then they might as well do it playing entertaining football. That way fans will come back and gates will hold up.

The long-ball manager departs the club.


Unhappily ever after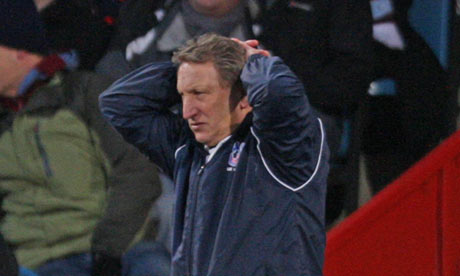 It's true that the above is a generalisation. Every club is different, and every managerial reign is different. However, they have their similarities too.

I often argue that good football is the last refuge of the poor manager. Even when results aren't coming, they can at least point to the fact their team is playing attractive stuff.

A long-ball manager doesn't give himself that defence. He might believe it is a more effective style and in an impatient industry brings instant success. However, it also can lead to a quicker departure if results don't come.

While, ultimately, every manager is judged by his results, they're even more important when it's only results that matter to a manager.