After serial sacked manager Paul Hart leaves yet another job,

Nobes

counts down the top ten of sacked managers in the Football League.

We know what's it like when you're a football fan. Your club appoint a new manager and you want to know all about his past career. Is he any good? Has he achieved anything?

Or, more likely, OH MY GOD - WHY HAVE WE APPOINTED HIM?

Well, here at

Soccer AM/MW

, we like to consider ourselves a public service for all real football fans.

So, for your pleasure, we bring you the Managerial Hall of Blame, those managers who have done nothing in their career to shout about apart from show a stunning ability to keep finding employment despite being really bad at their job.


[Honourable mentions to the likes of Colin Todd, Andy Ritchie, Iain Dowie, Mike Newell, Paul Sturrock, and Peter Taylor - all sacked three times in the last decade but who missed out on our list.]


10.
Mark McGhee
Long ago in the dim distant past, the kind of time only Lakes can recall, well, it was the 90s actually, Mark McGhee was seen as one of the bright young managers of the future.

Unfortunately, he gained a reputation for walking out on clubs to further his career, so it's with great irony he makes the list for sackings.

In fairness, he was one of many that could have been chosen who has three sackings to his name, but we chose him specifically because of the delicious irony.


We don't even think he's that bad a manager - he did brilliantly to keep Brighton in the second tier for more than one season. However, he eventually got the boot from the Seagulls, to add to his previous dismissals at Millwall and Wolves.

Now rebuilding his career north of the border with Aberdeen. Sorry, Mark, you're not that bad, but we just can't resist the irony, pal.


9.
Alan Buckley
Affectionately known as 'The Buck', unfortunately for him poor results meant the Buck did indeed stop with him.

The first of our top ten to have been sacked by a single club twice - in his case Grimsby, Buckley was also dismissed from West Brom in the 90s and in the Noughties by Rochdale.

His departure from Lincoln was blamed on financial problems, so he escapes with just the four career sackings.

He actually helped Grimsby punch well above their weight during his earlier spells there, and played some decent football too. But recent failures indicate someone who has gone on too long and needs to hang up his.... Pro Zone kit?

8.
Danny Wilson
A surprise entry at 8, but Wilson has found himself given the sack by four different clubs during his managerial career.

Struggling Sheffield Wednesday gave him the axe in 2000 and he's subsequently been removed from his position at his last three clubs - Bristol City, Milton Keynes, and Hartlepool.

That's despite always building sides who play attractive football, winning the LDV Vans Trophy at Bristol and promotion from League Two with Pools. Now at Swindon and once again showing his managerial worth, Wilson can count himself unfortunate to be on the list.

7.
Tony Pulis
Yeah, I know, I couldn't believe it either. Well, actually, I could. Long before he was outsmarting the best teams and managers in the world in the Premier League, our Tony was cutting his teeth and clearing his desk at clubs up and down the country.

The Welshman has also managed to clock up some impressive sackings. Gross misconduct was the reason for him leaving Gillingham, and his unpopularity level with Bristol City fans was so high his sacking was inevitable the day he was appointed.

His next P45 came at Portsmouth where they were so underwhelmed by his abilites that they decided to replace him with Steve Claridge. Finally, a falling out with Stoke's Icelandic owners saw him given the chop at the Britannia.

Pulis has had the last laugh now. Returning to Stoke to take them into the top flight and helping the Potters punch above their weight amongst the country's elite. Full marks Tony for bouncebackability!

6.
Ian Atkins
The term 'lower league manager' was invented for Ian Atkins. Actually, that's not a fact, don't go quoting us on that or anything, but it might as well have been.

The Brummie has never managed above League One level during a long career where the only consistent thing has been his long-ball football and eventual sackings.

Cambridge was the scene of his first dismissal. That was followed by Oxford - for talking to Bristol Rovers about their vacant job, Bristol Rovers - for being generally rubbish, and Torquay - for not being a former Czech international and best mate of the chairman.

Added to resignations from jobs at Colchester, Carlisle, Chester, and Northampton and I think it's fair to say that Atkins has been around the block and firmly deserves his place on the managerial merry-go-round.


5.
Gudjon Thordarson
The first and only Icelandic manager in the English game, and thus the only Icelander to be sacked four times from Football League teams.

To be honest, he should have known things were going to be tough when, despite leading Stoke to promotion, the club's owners decided to do away with his services.

His next post was with Barnsley where again, even though doing well with a club in financial problems, infamous football club chairman Peter Ridsdale decided Thordarson was not the man for the job.

Since then, it's been downhill. Notts County came calling, where he lasted less than a season, and then Crewe, where his long-ball style went down badly with the Alex purists.

Four sackings in a decade mean Thordarson is a solid candidate for the Hall of Blame.


4.
Mark Wright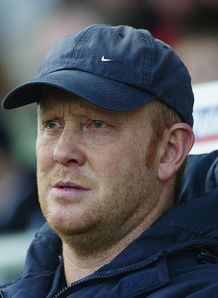 In at 4, and it's the second man to be sacked by the same club twice. The former England international is now better known as a serial Chester manager after three separate spells in charge with the Cestrians.

His first ended in his resignation, but the latter two saw him given the boot. It's a wonder why they ever kept inviting him back.

Other sackings came at Oxford - after he allegedly racially abused a match official, and at Peterborough for "gross misconduct." Wright claims his managerial record warranted a chance at Championship level. Only at QPR, Mark, only at QPR.

3.
Gary Megson
There's nothing like a warm welcome, and that's exactly what Gary Megson received when he took over at top flight Bolton, where he recently received the fifth P45 of his career.

It was a career that began in the mid 90s being sacked by Norwich, then Blackpool, and then Stockport after he applied for a managerial position elsewhere.

West Brom was his next port of call, but despite two promotions he was dismissed when his indication he would not be signing a new deal was treated as 'disloyalty' and he was given the axe.

Amazingly, despite overseeing Nottingham Forest's demise into the depths of League One, in his best ever tactical move, he resigned to avoid another sacking on his already crowded CV.



2.
Paul Hart
Pipped to the post, but would have been a worthy winner, Hart has found himself sacked by football clubs on no less than five occasions - and that's not even including his recent did he walk/was he pushed departure from QPR.

His first job at the start of the 90s was with Chesterfield - and was his first sacking too. He suffered the same fate down the road at Nottingham Forest and later at Barnsley.

His next port of call/axing was Conference club Rushden before, amazingly, being given the chance to be sacked from the Premier League with Portsmouth.

We believe Hart is the proud owner of a phenomenal record of the only man to be sacked from all top five levels of English football.


There could only be one winner however...


1.
Glenn Roeder


What can you say about Glenn Roeder's managerial career? Well, how about that he has been sacked from every single club he's ever managed, all of whom have been relegated either with him at the helm, or subsequently.

Yes, it's quite a record that he's managed to accumulate over the years. However, fans of Gillingham, Watford, Burnley - where he was an assistant manager, West Ham, Newcastle, and Norwich can all testify to this man's ability - or lack of it.

Along the way he's managed to display a personality as unlikeable as his team's results, including refusing his team to get changed in certain dressing rooms, and insulting his own club's supporters at Norwich.

Perhaps the most worrying thing of all? You just know that someday, somewhere, he'll turn up again and get another job in football management. You have been warned...