As the pitches become heavier, the weather colder, and teams begin to settle into promotion fights, relegation battles, or mid-table mediocrity, it's time to look at how the season has gone so far.

Here at

Soccer AM/MW

we looked into our crystal balls (hence the picture) and made predictions back in August as to how we thought the leagues would turn out, and here you can find our tables for the Championship, League One, and League Two.

We'll be reviewing our performance soon, but first of all, here's our thoughts on the 2009/10 campaign in the Football League to date:



Surprise team(s) of the year?





Turls:

Blackpool, without a doubt. Those Tangerines have shocked everyone with their results. Few predicted a top half finish, but I've heard some Blackpoolians whispering about promotion. Even with the ever-enjoyable Ian Holloway at the helm, I think that would be a step too far.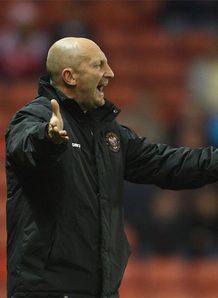 Nobes:

Quite a few, for me. I'm surprised to see Grimsby and Brighton struggling towards the bottom of their respective divisions again. You'd have thought they'd have learnt from their close escapes last term.

Agreed with Blackpool, I thought they might surprise a few people as Holloway [right] always works better with smaller clubs, but not to the extent they have. And I never thought Newcastle would respond to relegation by storming the Championship.


Manager(s) of the year?



Nobes:

I think Eddie Howe has done marvellously well at Bournemouth again. This guy is a very young manager working with very limited resources. Often he's not been able to muster a full subs bench up, but the Cherries are firmly in the promotion race. It's a real triumph over adversity.

Turls: It's a tough one really, because it depends on each team's aims. Holloway has worked well at Blackpool and I'm a fan of what Keith Hill is doing at Rochdale. However, I'm going to go for a strange one: Alan Pardew at Southampton.

Sure, he inherited a squad good enough to challenge for the League One title, but the way the players have got their heads down and got on with the job pleases me. Credit to the man.


Biggest overachiever(s)?





Turls:

Burton. I think some people tipped them to plummet straight back out of the Football League but they have surprised a few with their performances.

Paul Peschisolido took over in the summer ans has done well with them so far. Let's hope they can keep it up.



Nobes

: Dagenham are once again punching well above their weight in League Two. They lost key players in the summer but have bounced back after a disappointing end to last season and are mounting a promotion push.


Biggest underachiever(s)?





Turls:

Take your pick! There is a whole host of clubs who haven't hit their stride yet - Reading, Ipswich, Oldham and Northampton. However, Middlesbrough have been the biggest disappointment so far.

I know they have sold some of their best players, but they still seem to be finding their feet in this division. They've got some bright young talent so they should turn it around soon though.



Nobes:

Has to be Ipswich for me. Reading were always going to have a transitional phase with a young team this term.

However, Ipswich appeared to have the manager who knew how to win promotion, and a strong squad with a good mix of youth and experience. Can't believe they've struggled so much.



Most justified sacking(s)?





Turls:

Easiest question ever - John Barnes for Tranmere. An abysmal appointment and he was the sole reason I predicted Tranmere to finish in the bottom-five.



Nobes:

Can't really argue with the Barnes choice, he should never have been chosen in the first place. Don't think you can question Barnsley's change of manager either, that squad is now having the best got out of it.


Least justified sacking(s)?





Turls:

I'd go for either Darren Ferguson from Peterborough - how quickly people forget a man who achieves back-to-back promotions, Brendan Rodgers at Reading - give the lad more time Madejski you smug oaf, and Bryan Gunn at Norwich.


Nobes:

How about sacking your boss when you're two places and a point off the top of your league? That's what Middlesbrough did with Gareth Southgate [left]. Now they find themselves 14th and 20 points off the summit. Oops.



Best managerial appointment(s)?




Turls:

Would probably have to be Paul Lambert at Norwich.
He's turned a club in 'crisis' into a major League One force.
He can in having d*cked the Canaries while he was in charge of Colchester, and the club clearly adopted the policy of 'if you can't beat them, steal them.'



Nobes:

Lambert was a shrewd move yes, and Colchester picked well choosing Aidy Boothroyd to replace him too.

And Holloway, as mentioned above. I just thought that was the perfect choice at the time - sometimes a club and a manager are well suited to one another - and that's a good example.



Worst managerial appointment(s)?




Turls:

John Barnes - simples.



Nobes:

Mark Cooper at Peterborough. Sure they were struggling, but even if they'd gone down they had Ferguson who knew how to win promotion from that level - and would be playing attractive stuff.

Now they've got a Non League manager who plays ugly route-one football who has no experience in the Football League - reflected by his transfer policy. My prediction - he won't be at London Road this time next year.


Now, to take a look at our pre-season predictions.



Turls reviews his performance:





From a purely self-indulgent point of view, I'm happy with predicting Grimsby to struggle for two reasons. The first is because, at this moment in time, it is a spot-on prediction.



The second, and this makes it more sweeter, it the fact that both Nobes and Lakes predicted they would have a top half finish. Admittedly, it may end up like that, but at this moment in time the Mariners are making me merry.

I'm not too happy with Hereford though. I genuinely felt that they could bounce straight back up after a forgettable season in League One. The Bulls have let me down completely and I'm massively disappointed with their performance so far.



I still fancy a second half of the season push to put them back in play-off contention, but I think it's pretty safe to write off their title hopes.



Reading have also been a massive disappointment and, if I could, I'd send them down to the nether regions of my predicted table. Fortunately, the rest of the Soccer AM/MW team felt they would have decent season too, so I can't feel too bad about fluffing this one.


Nobes's thoughts on how he's doing so far:
I think it's fair to say my summer forecasts have been a mixed bag to date. For instance, I take no pleasure at all from seeing Newcastle sitting pretty at the top of the Championship - a full sixteen places above where I thought they'd be.


However, a quick glance towards League One shows that of the teams I predicted to finish in the top-ten, nine of them are currently residing in there. That includes Leeds, who I thought would win it, and I'm also pleased to see my dark horses Colchester impressing.
Indeed, I've actually got the top and bottom teams spot-on in that division, so it's without a doubt the highlight. Top half predictions for Grimsby and top-seven for Lincoln in League Two look particularly bad though.


If I could change one prediction, it'd probably have to be sticking Darlington bottom of the entire Football League. Along with Leeds and Newcastle winning their respective divisions, it's probably the only other position that will definitely be filled by its current occupent.