"It started with a kiss. Never thought it would come to this."
No, I'm not talking about the song by Hot Chocolate, I'm referring to the kiss of death many Newcastle fans thought Mike Ashley had put on their club when he oversaw their relegation to the Championship.
Indeed, perhaps lead singer Errol Brown would have done a better job as owner, given the circumstances. But is the prognosis still death? Doctor Lakes performs a full medical. Newcastle, bend over - I'm going in.
As we all know, the lower leagues have something of a reputation as being a bear pit - a real quagmire that teams struggle to get out of once they're relegated. You only have to look at the likes of Leeds, Charlton, Southampton etc to see that.
And indeed many people, including myself, thought Newcastle would have a tough time of things in the Championship. Let's face it, the signs didn't look good. Infighting at the club, a hated owner, a squad with less morale than a mouse in a cooker and, frankly, ugh - what's that away kit all about?
So, what happened? A quick glance at the league table shows Newcastle top of the league - and exhibiting all of the hallmarks of a side who are going to storm the league. They're winning by decent scorelines, not conceding many goals and are starting to - dare I say it - regain confidence.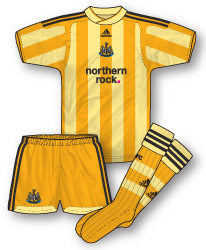 Let's not forget that Newcastle still have an extremely able squad, that for whatever reason wasn't able to do the business in the Premiership, but is nevertheless decent.
And if anything demonstrates the gulf between the top tier and the second tier, it's seeing a side that was being hammered week-in, week-out dishing out hammerings.
3-0 vs Reading, 2-0 vs Palace. These are encouraging results - and apart from leaking a few goals in the Carling Cup, you have to say they look like the complete package. They're good going forwards and strong at the back.
It certainly looks like the mercurial Shola Ameobi - something of a joke figure for years - might be finding his feet at this level. Could he be the new hero of St. James's Park?
And it's for reasons like that why Newcastle fans should enjoy their time in the Championship. It doesn't look like it's going to be the quagmire it could have been - although it's still early days. And if it isn't, it's going to provide fans with a whole different experience and a whole different perspective on football.
Another Premiership side will realise that the Championship is a place where football is played and the competition is fierce. Although it seems for Newcastle, just not fierce enough.
Prognosis: Promotion.
If they're top at Christmas they'll storm the league. A clean bill of health.