Here at

Soccer AM/MW

, you know we're committed to bringing you the very best coverage of the Football and Non Leagues -
and that includes on the international stage.

So, with this summer's World Cup in South Africa kicking off today, we thought we'd follow the fortunes of the 11 Football League players who will be appearing in the tournament for their countries.





First up, Group A,

Lakes

looks at the hosts South Africa who include one man from the Football League. They'll hope to avoid becoming the first hosts to fail to make the knock out phase as they face Mexico, Uruguay, and France.





Aaron Mokoena
One of Portsmouth's stars to be dragged down into the murky depths of the Championship.

Mokoena is a midfielder with a penchant for tackling hard. Known as 'The Axe', he's the youngest player to have ever represented South Africa- making his debut in 1999 at the age of three.

I can tell you for a fact that he sucks in a 4-4-2 set-up, and will throw his toys out of the pram if he's not part of a 4-5-1. He gets lonely in midfield.


Prediction:
They're the lowest-ranked side at the tournament. What do you want me to say? They'll go on and win the cup? They won't. They won't even emulate the success of previous hosts, because they're utterly turgid.

They're the lowest-ranked hosts in history, fact. They're going to absolutely utterly fail to get past the group stage, which will be a shame for the fans and I hope it doesn't make the tournament any less atmospheric.

Fact fans might also like to know that South Africa like to get their full backs forward. That's pretty much all I know of them tactically, so I'm not going to pretend to be any more of an expert on them than that. God they're cr**.
Nobes
takes a look at Nigeria's two representatives, as they look to escape a Group B containing Argentina, Greece, and South Korea.
Nwankwo Kanu



The biggest shock at this tournament? No, not the fact Diego Maradona has been entrusted with one of the best collection of players in South Africa. Nor would it be a win for North Korea or New Zealand.


No, the biggest shock is to discover that Kanu - the man whose first name all people in the media are afraid of saying in case it sounds a bit rude - is only 33 years old.

Was he really just 22 when he scored that hat-trick against Chelsea - including one from an impossible angle - for Arsenal? I can't believe it.

The Pompey striker says he will bow out of international football after this summer's tournament though. Which I can well believe.

He's still the captain of the Super Eagles though, and they'll hope his talismanic qualities and skill will help them through a favourable Group B draw.


John Utaka



For a man whose name, if you pronounce it in a certain way, sounds a lot like 'attacker', the Nigerian's scoring record is abysmal.


Portsmouth signed the 28-year-old for £7 million in 2007 and, had they made the decision based on his surname, you'd think they'd have sent him back on a breach of the Trade Descriptions Act.

Infamous for his bursts of pace and woeful end product, he scored just once as Pompey crashed out of the top flight last term.

In total, he's scored just ten times in three seasons on the South Coast - making David Nugent look like a goal machine.

Unlikely to oust the likes of Obafemi Martins, Yakubu, or Kanu in the Super Eagles' striking line-up.



Prediction:

Nigeria stand a decent chance of qualifying from a group that, Argentina apart, looks very average. They'll be hoping to benefit from the tournament experience of their newly appointed Swedish boss, Lars Lagerback

Their crunch tie will probably come against Greece when the pair meet in the second game in Bloemfontein. Win that, and they should make the last-16.




Onto Group C, where two countries are represented. First,

Nobes

takes a look at Algeria and then

Turls

at the USA - both of whom have a player at the World Cup. England and Slovenia complete this group.





Nadir Belhadj



This attacking left back should really be playing for Greece at this summer's tournament - because he's lightning quick. Poor puns aside though, Belhadj is one of Algeria's danger men in Group C.


He operates as a wing back in their favoured 3-5-2 system, which is perfect for his athleticism getting up and down on the left flank. He is also a constant threat with his balls into the box and dynamic runs forward.

One of the few players Portsmouth will be hoping to make a bit of decent cash on after the tournament, Belhadj could be a threat to England and the supposed defensive weakness of right back Glen Johnson when Algeria face Fabio Capello's men.



Prediction:

Algeria have a decent chance of making the knockout phase. They'll particularly hope that they can use 'home' advantage of being on African soil to their advantage.

If they can get off to a good start by beating Slovenia, then they'll hope to go into their final group game against the USA with everything to play for. Difficult to see them doing any better than the last-16 though.



Jay DeMerit



This is a mean centre-back who takes no prisoners. He's spent the past six years in English football, but it's easy to forget that he started in Non League.


He got his chance to move early on when Watford came calling, and he hasn't look back since.

He's not the tallest, but he is good in the air and knows how to handle himself. Should play every game he is available for.

Interestingly, the FIFA website states that DeMerit came to England on a 'wing and a prayer.' Makes him sound exciting, doesn't it?



Prediction:

Tough one to call are these Yanks. On paper, they look like a side short on creativity and lacking in ability. However, they seem to be a pretty strong unit that works well together.

They should get out of the group stages provided they don't get thrashed by England in the opening game. However, it's hard to see them getting beyond the next round. Any team with Jozy Altidore is destined to struggle.




Australia and Ghana find themselves pitted against Germany and Serbia in Group D. The
Aussies
have two Football League players in their 23-man squad, the Africans one.
Lakes
looks at how the Socceroos and Black Stars may fare.
Adam Federici
For me, one of the most exciting prospects in football and at the World Cup in 2010.


You might find my selection of a Championship goalkeeper in that category as an odd statement, especially in a tournament renowned for star centre forwards setting the stage alight. However, Federici is every bit a star in my eyes.

He arrived in England from Italy with nothing more than a suitcase and spent a hefty stint on Ibrahima Sonko's sofa playing football for Non League side after Non League side - anyone who would have him - as he fought to be recognised at Reading.

Now he's been linked with moves to Spurs, Liverpool, Arsenal, and anyone else you care to shake a stick at. At one point, even Italy tried to lure him to switch allegiance from Australia.


Richard Garcia



The former West Ham and Colchester man knows a thing or two about the lower leagues.

He was part of the side who helped Colchester reach the almost-promised land of the Championship and was a member of Hull's promotion push in the 2007/8 season.

He speaks Spanish and was an usher at England man Michael Carrick's wedding - Carrick returned the favour with gusto.

He's made seven appearances for the Socceroos since 2008, but expect him to turn out in South Africa.




Prediction:

I've always liked Australia, and feel they were hard done by in Germany four years ago. A contentious penalty saw Italy save themselves in the second round at the expense of the Aussies and, in my opinion, it was a shameful dive.

Australia in 2006 and Australia in 2010 are different animals though. Under the watchful gaze of Guus Hiddink, you may remember Australia fostered an exciting 3-3-3-1 formation which bossed possession even against superior teams.

Now they play a much more conservative and defensively orientated 4-2-3-1 formation with Jason Kennedy up on his own up front. They've gone from exciting to efficient.

Don't expect them to set the world alight, but they stand a good chance of escaping their group and, if they can keep it tight, perhaps beating their record of four years ago. They'll need luck on their side though.



Kevin Prince-Boateng
Boateng is likely to be one of Ghana's most intrepid players in 2010, and don't be surprised if a lot of play goes through him.

On paper, he has all the attributes you look for in a midfielder: he's strong, six foot tall, skillful, has pace, and can pass the ball well.

The Fresh Prince has already had an impact on this tournament - absolutely wrecking Michael Ballack's leg in the FA Cup final to the rule the German captain out of contention for 2010.

He claimed it wasn't intentional. Whatever, Kev.



Prediction:

I did a bit of casual reporting at the 2006 World Cup for a website. When I say casual reporting, I mean I was on my backside in front of the telly. I was assigned to follow Ghana as one of my teams, and was really impressed by them. They are one of the most underrated African sides.

This time they will have to do without Michael Essien though. Likely to field a lone striker in the form of Asamoah Gyan, he will provide a lot of endeavour and draw markers this way, that way, and every other way without actually scoring.

It's the midfield where Ghana really impressed me last time 'round, with their ability to quickly seize the initiative and make powerful runs. Expect their goals to come from this area.

Their prowess will be diminished with the lack of Essien and being placed in such a tough group might be the final nail in their coffins. Nevertheless, keep an eye out for some good performances from the Black Stars.
Finally, we look at Group F where New Zealand are featuring in their first World Cup since 1982. They've three Football League players amongst their ranks, and
Turls
looks at their chances against Slovakia, Paraguay and World Champions Italy.
Tommy Smith
It's been an upsetting season for the young defender. Before a hand injury, he was playing most of the time under Roy Keane and many felt that he had improved a lot.

However, that injury forced him out of the reckoning and he was eventually sent on loan to Brentford. He's a strong lad who is decent in the air, and is able to play at left back or centre back.

Having made his international debut earlier this year, he'll see the World Cup as the perfect opportunity to prove to his manager that he deserves another first-team chance.


Chris Killen
With a one in three international goalscoring record, the Middlesbrough striker will be key if the All Whites want to pick up any points at this year's tournament.

Since crossing the border from Celtic and joining the North East club, Killen has had a decent spell at the Riverside. He's a powerhouse of a striker and is very tough to knock off the ball.

However, he has the turning circle of a tanker and isn't the best with the ball at his feet. If the All Whites are going to score, then this is the man who will.


Rory Fallon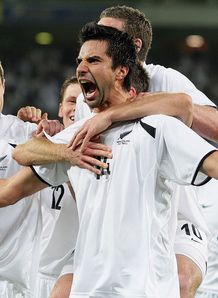 The Plymouth Argyle man who scored the goal to ensure New Zealand would progress to the 2010 World Cup - and he's not get less than ten caps.

Hero status may be putting a little too much emphasis on it, but he'll be delighted to have the chance to play in South Africa.

Especially when you consider he's not that great. He's a strong chap who likes to fix the occasional horse race.

Or is that Kerion Fallon?


Prediction: It pains me to say this - especially with three Football League players in their ranks - but you should expect New Zealand to be knocked out of the tournament in the group stage.

They probably won't score any goals and they're likely to concede a fair few as well. If they can home with a point in their pocket, they'll be chuffed to bits.




We'll be keeping tabs on how all the players perform and having updates on how well their country does, during the tournament.